Every two years, the Danish media researchers' award, the SMiD award, is presented to "a person who, in their work, has made positive and exemplary contributions to media research as a research field and/or research environment in Denmark". In 2018 the award was presented to Professor Emerita Gunhild Agger, the Department of Culture and Global Studies, AAU, for her overall contribution to the enhancement of Danish media research.
It is not possible to apply for the award. Members of SMiD nominate a researcher, and the SMiD board then decides who will receive the award at the association's annual meeting.
Previous recipients of the SMiD award are Kim Schrøder (2012), Ulla Carlsson from Nordicom (2014) and Ib Bondebjerg (2016).
The nomination text states that Gunhild Agger is one of the pioneers who developed the media research field in Denmark. She has contributed to the consolidation of the field and has promoted the entry of young researchers into media research. Gunhild Agger has published numerous academic analyses in both Danish and international publications, particularly of films and TV fiction. Her higher doctoral dissertation from 2005 on Danish TV drama: Family Silver and Entertainment was a milestone. In her research, she has combined extensive historical insight with detailed aesthetic analysis. Moreover, she has been a prolific disseminator of her research to the general public.
At present, Gunhild Agger is continuing her work to chart the development of Danish TV drama during the period 1995-2016. The provisional title of her new TV drama history, which is scheduled for publication in 2019, is The boundless TV drama [Det grænseløse tv-drama].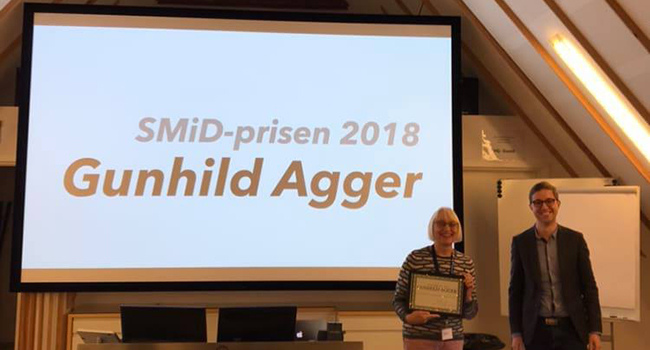 Gunhild Agger is presented with the SMiD award by SMiD chairman Aske Kammer at the SMiD annual meeting 2018 at Hindsgavl Castle.