By Lea Laursen Pasgaard, AAU Communication. Translated by LeeAnn Iovanni, AAU Communication
Every seat in the auditorium at Fibigerstræde 15 was filled on Wednesday 18 December at the annual staff meeting on the Aalborg campus. Rector Per Michael Johansen took stock of the past year and what awaits.
'A lot of us are probably looking forward to the Christmas holiday this year. 2019 has been a tough year and there have been several different reasons for this,' Rector Per Michael Johansen noted at the outset in his speech to staff.
The organisation had to face cutbacks, dismissals and restructuring, but the Rector was pleased that a political majority eliminated the re-prioritisation contribution and extended the taximeter increase for the social sciences and humanities programmes by three years. However, he also did not hide the fact that the AAU is still in a tight financial situation. The university is budgeting a deficit of DKK 10 million for 2020 in order to ensure continued strategic development.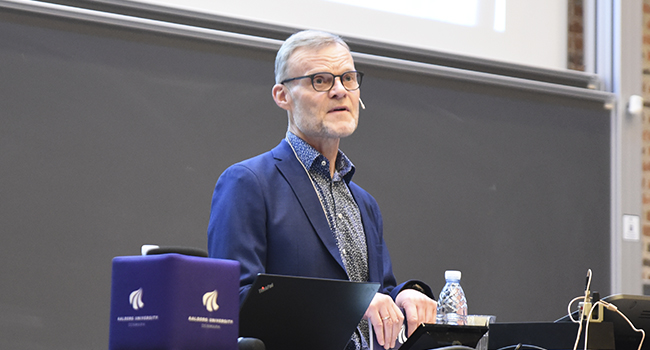 A central focus of the university will continue to be increasing external research funding.
'The government has earmarked DKK 1.2 billion for green research. This is good news for AAU because sustainability is one the areas we are very strong in. In this context, our new Minister for Higher Education and Science would like to see that we also involve humanities and social sciences. It is vital that we think about interdisciplinary solutions to society's major challenges,' the Rector emphasised.
Interdisciplinarity and sustainability will thus be important focus areas for AAU in the coming year. Focus will also be on developing a new strategy that will build on the essence of the current strategy, Knowledge for the World.
In terms of education, Pro-rector Inger Askehave highlighted graduates' employability, study intensity and dropout rates as special action areas in the new year.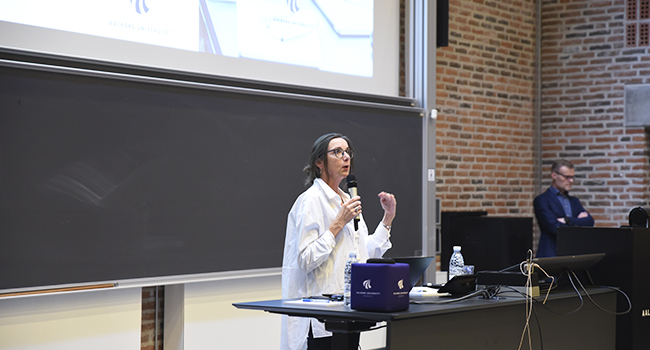 Following the Rector and Pro-rector's presentation, there was time for questions from staff members. Antje Gimmler, Professor in the Department of Culture and Learning and newly elected board member, encouraged management to ensure an open and participatory process in the upcoming work on the new AAU strategy.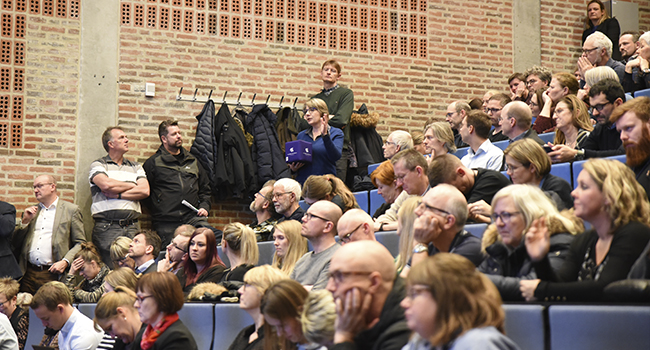 As is tradition, the staff meeting concluded with Danish Christmas doughnuts and mulled wine.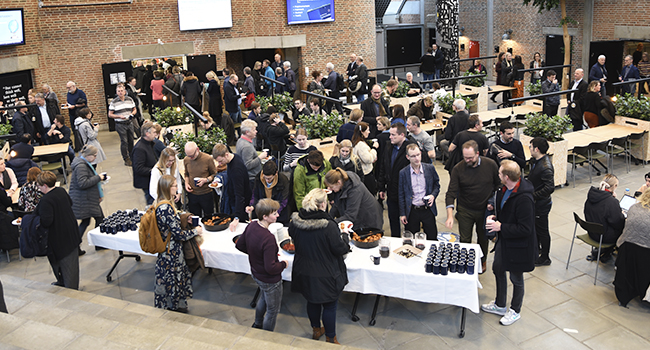 The rector's office hosted similar staff meetings on the Esbjerg and Copenhagen campuses on 20 November and 4 December, respectively.
See the Rector and Pro-rector's presentations from the staff meeting in Aalborg here