Text: Debbie Pedersen, Department of Health Science and Technology
Photos: Private
On 26 March 2020, Line Bay Sørensen of the Department of Health Science and Technology was supposed to defend her PhD thesis on humane NGF-induced pain models ­– the culmination of three years of research at the department's Center for Neuroplasticity and Pain (CNAP). But a few weeks before the defence, along came the coronavirus situation that resulted in the physical closure of large parts of Denmark. This meant a sudden change of course for Line Bay Sørensen.
CRUCIAL MEETING WITH SUPERVISOR
However, AAU's Doctoral School in Medicine, Biomedical Science and Technology quickly set up two alternative solutions. The choices were to defend the thesis online or postpone the defence indefinitely. Line Bay Sørensen's supervisor, Professor Thomas Graven-Nielsen, arranged a Skype meeting where they discussed the pros and cons of the two options.
- My supervisor and I hashed over the many uncertainties, and no one really had the answers or knew what the final outcome of my choice would be. So that meeting, where we tried to put things in perspective, meant a lot to me. Bottom line, the risk of having to postpone the defence indefinitely determined my choice to do it online, says Line Bay Sørensen.
The next step was to send an application to the doctoral school as they would have to approve conducting the defence online, and then to obtain approval from opponents and the assessment committee. That part quickly fell into place, and everyone involved approved doing the defence online.
PRACTICE MAKES PERFECT
Line Bay Sørensen had previously taken part in the traditional PhD defences of her peers that were physically attended with a presentation, discussion and reception as the three main elements. The presentation posed the first challenge for Line because she had practiced presenting in a lecture room, but what would it be like when she suddenly had to sit still in front of the computer and really only make eye contact with the camera's eye? To be comfortable with this situation, Line took advantage of her network.
- I arranged meetings with my colleagues who acted as the audience and gave me feedback on my appearance and my attempts to interact with them during my presentation. It was very much out of my comfort zone, but it was a great help to me. Also of course in terms of getting feedback on the purely scientific aspects, describes Line Bay Sørensen.
GREAT DEFENCE IN THE LIVING ROOM
On 30 April, Line Bay Sørensen logged on to Skype from her living room, the setting for the defence. The traditional setup of tables for the assessment committee in a seminar room was replaced with small screen images of opponents, moderators and the chair of the committee. The 40 or so participants appeared as numbers in the corner of Line's screen. Physically by her side, however, was Line's partner ready to listen in.
- It was a bit surreal, but everything went as planned – not least the technical part, which was my main concern. The presentation and discussion went well, and any technical problems were quickly resolved. We had also had a technical rehearsal the day before the defence that included the assessment committee. That gave me some peace of mind that I might not have had in a traditional defence. And the technical aspects can also be tricky in a traditional defence, she says.
At the end of the discussion, the assessment committee left the virtual defence room and went to another virtual meeting room to deliberate. The PhD degree became a reality and the day concluded with a festive surprise. Line's supervisor, Professor Thomas Graven-Nielsen, announced that a group of colleagues were waiting on the street in front of Line's home with champagne and flags – at the proper distance required these days.
- My colleagues had arranged a really great surprise. Especially since I was so frustrated that the reception to celebrate with family, friends and colleagues had to be cancelled. But everything ended up so well with my defence, says Line Bay Sørensen.
The chair of the assessment committee, Steffen Frahm, Associate Professor in the Department Health Science and Technology, AAU, notes that the process for the committee also requires additional, different preparation:
- We had to take several precautions to ensure that the members of the assessment committee had access to Line's presentation, mobile phone numbers for each other, etc., in case the technical aspects failed. This didn't happen, but in the event of a technical problem a plan of action should of course be in place. The fact that you don't physically meet before the defence requires a whole new approach to coordinating the entire process for the assessment committee. But it went really well. And now we've gained experience that we'll definitely need in the future, says Steffen Frahm, Associate Professor.
Line Bay Sørensen can also chalk up another experience, and she is now ready for new challenges in her new position as a postdoc at the Department of Health Science and Technology, AAU.
TIPS FOR ONLINE PHD DEFENSE FROM LINE BAY SØRENSEN:
Take part in a peer's online PhD defence and experience it as a participant
Contact someone with experience in the online PhD defence to get good advice
Practice your presentation and on-screen appearance with your colleagues and supervisor
Make an appointment with a participant to check that the presentation can be seen (the virtual room opens 30 minutes before the start)
Prepare and show up as if everyone were physically present, even if the participants don't see all the physical details, such as your attire
Select any people you'd like to sit physically next to you during the defence
Keep in mind that you're not alone in doing the defence in a new way – this may also be new for the assessment committee
AAU's IT Services takes part in the defence and also provides support throughout the process
See it as an opportunity for your research to potentially be disseminated more widely through an online defence
ADDITIONAL INFORMATION & FEEDBACK
Line Bay Sørensen, Postdoc, Department of Health Science and Technology, AAU
If you need feedback on the administrative and practical planning of an online PhD defence, feel free to contact the administrative research support team at the Department of Health Science and Technology, AAU: Susanne Nielsen Lundis, Team Leader, Pia Lund, Research Secretary, Kristine Uldal Knudsen, Office Trainee.

If you need feedback on the role of the assessment committee, you are welcome to contact: Steffen Frahm, Associate Professor, Department of Health Science and Technology, AAU.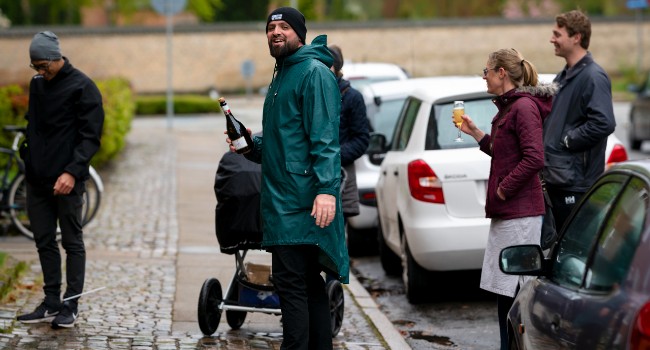 Caption: Line Bay Sorensen's colleagues from the Center for Neuroplasticity and Pain (CNAP) celebrated Line at the proper distance.
Photo: Private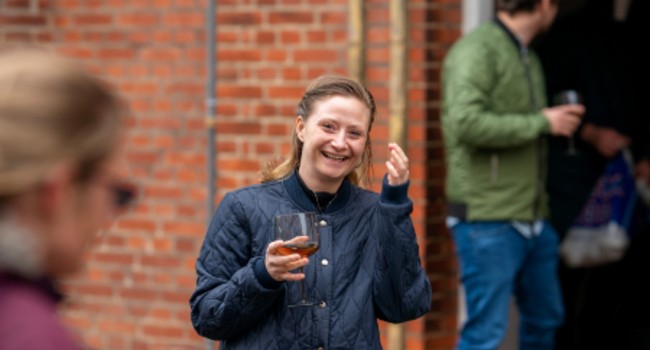 Caption: Line Bay Sørensen celebrates the title PhD
Photo: Private