By Lea Laursen Pasgaard, AAU Communication. Translated by LeeAnn Iovanni, AAU Communication
- The major societal problems in the real world are not monodisciplinary. If we are to solve them, we need to be able to work together across disciplines. This is also the reality our students will face when they enter the labour market.
So says Jens Myrup Pedersen, Associate Professor in the Department of Electronic Systems and part of the AAU interdisciplinary research project Community Drive. The project also includes Rikke Magnussen, Associate Professor in the Department of Communication and Psychology and head of research for Community Drive. In the interdisciplinary research project, AAU researchers are developing new teaching methods for primary school that can equip children with the skills of the future, enabling them to learn how to create new knowledge and devise solutions across the traditional subjects.
FIELD TRIP IN SOUTH AFRICA
As part of the interdisciplinary research project, Rikke Magnussen and Jens Myrup Pedersen prioritized time for a handful of interdisciplinary student projects. The students got involved in the project early on, and the student projects were pushed forward by the students themselves. Two students studying information studies in the Department of Communication and Psychology and two students from computer technology in the Department of Electronic Systems accompanied Jens Myrup Pedersen on a week of fieldwork in South Africa. The students were there to collect data and work with the e-learning company Green Shoots to further develop an e-learning platform for local schools.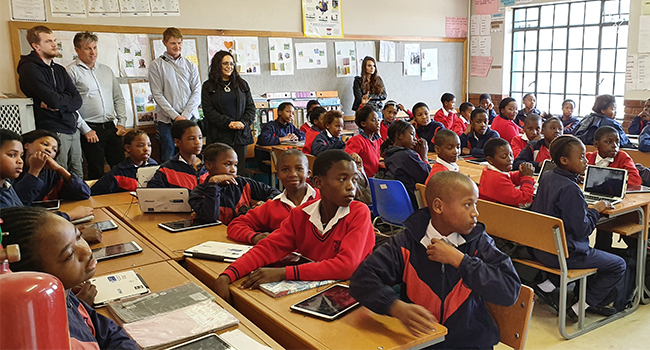 Visit at one of the public schools in South Africa using the Green Shoots learning platform Maths Curriculum Online in teaching. Pupils present various mathematical concepts for the AAU students that they learned using the platform. Private photo
- The students excelled at seeing and figuring out how they could work together and use each other, says Jens Myrup Pedersen.
- It takes some time to get a feel for each other and understand each other's academic skills, and my impression is also that the students are good at it. Students aren't as firmly established in their disciplinary area as researchers might be after many years at the university. Students are more malleable so it's clearly an advantage to involve them in interdisciplinary projects during their studies so that they quickly learn this type of collaboration, adds Rikke Magnussen.
MOTIVATION IS CRUCIAL
In order for an interdisciplinary research project or student project to be fruitful, the two researchers believe it is important that the team is staffed with people who really want the experience of interdisciplinary collaboration and are genuinely curious about others' expertise and input.
- Interdisciplinary projects are not for everyone. We have colleagues who don't embrace this kind of research collaboration. Sometimes we encounter the view that interdisciplinary cooperation dilutes the individual's expertise, but that is not our experience. On the contrary. I think working across the faculties offers something completely different. That's the way I like working best, says Rikke Magnussen.
EQUAL PARTNERS
In Community Drive, researchers are aware that they contribute different perspectives to the research project, and it is important for them that the collaboration is equal so that one researcher does not end up just going along for the ride. The two researchers had the same ambition for the student projects.

Computer technology students Jacob Vejlin Jensen and Rasmus Broholm, who are studying information studies, are two of the students who took part in the interdisciplinary student project in South Africa. They both joined the project because they wanted to try out interdisciplinary cooperation, and today they are very happy that they had the opportunity to work on a project that could make a tangible difference to schoolchildren in South Africa.

- I think it's extremely interesting to balance different academic skills, and students – as well as researchers – generally need to develop competences that can link us across disciplinary areas. The coolest projects that create good products are based on collaboration, says Jacob Vejlin Jensen.

He found it exciting to work with the other students because, in addition to their IT background, they also had a humanistic mindset.
- We could use our engineering approach to IT infrastructure development and combine it with their understanding of learning and how systems work in practice with children in schools. With this approach, we achieved a more complete product than we would have alone, he adds.
Jacob Vejlin Jensen and Rasmus Broholm agree that the collaboration has been exciting but also challenging.
- The project taught me that it's certainly possible to work with other disciplinary areas. It's important to have the same goal for the project and understand each other's work processes. I was surprised that we knew so little about how the others actually worked. Our work processes were paced differently – we spent more time collecting and analysing data, while they started in on the actual development work quite quickly. So in the beginning I found it difficult to contribute to their work, says Rasmus Broholm.

Both students thus emphasise the importance of clearly aligning expectations, which provides insight into each other's academic skills and work processes, as well as the importance of holding regular physical meetings.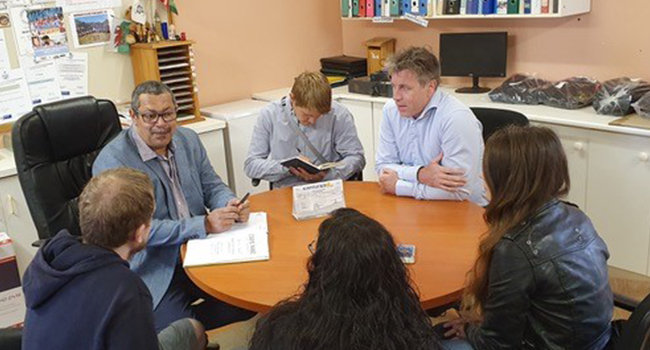 Meeting with the principal of a primary school using the Green Shoots learning platform. The meeting deals with using the platform and how to adapt it to the needs of the school. Private photo
GOOD ADVICE FOR STUDENT PROJECTS FROM RESEARCHERS AND STUDENTS IN COMMUNITY DRIVE:
Aligning expectations and insight into each other's academic skills is important. Define goals, boundaries for the collaboration and rules of communication.
Physical meetings must be prioritized, both between the students alone and between supervisors and students.
The supervisors must follow the student projects closely and supervise both groups of students.
Students' work processes are different, so it is important for the collaboration that these fit together timewise.
Learn more about Community Drive on the project's website here
INTERDISCIPLINARY PROJECTS AT AAU
This AAU Inside series focuses on the experiences of researchers from AAU's five interdisciplinary research projects that could benefit others in the organisation.
The interdisciplinary research projects were launched in 2018 with the aim of contributing to solve the major challenges of society that require knowledge from multiple areas. The five interdisciplinary research projects were selected by the AAU Executive Management as part of the AAU strategy Knowledge for the World. With a total budget of DKK 45 million, the five projects are among the major research initiatives paid for solely by AAU.
The projects support AAU's objective of promoting innovative interdisciplinary cooperation in five research areas inspired by Horizon 2020 and FORSK2025 (RESEARCH2025).
You can read about the other projects' experience with interdisciplinary collaboration here:
Interdisciplinarity: The art of finding a common research language (SECURE)
Interdisciplinarity: Spend time together and understand each other's expertise (InterHUB)