By Lea Laursen Pasgaard, AAU Communication. Translated by LeeAnn Iovanni, AAU Communication
In 2018, postdoc Adrienne Mannov had to hit the books to brush up on math when she was working in a new interdisciplinary research project, SECURE. A techno-anthropologist, she would now be working with researchers specialising in engineering and mathematics – and vice versa – on a research project on algorithms and trust. Although the researchers are all scientists, they quickly discovered that they tended to talk past each other. For instance, the concept of 'trust' is understood in different ways.
'The confusion was on a higher level. As techno-anthropologists, we understand 'trust' as a social practice, whereas some of our fellow researchers understand 'trust' as mathematical evidence. This made for a fundamental challenge that we could only solve by being curious about each other's expertise and our different perceptions of science,' says Adrienne Mannov, who is employed in the Department of Culture and Learning at AAU.
Therefore, she quickly set out to learn to 'math speak'. She attended cryptography lectures at the Massachusetts Institute of Technology (MIT) in the US where she was a visiting scholar in the spring of 2019 and went deeper into the logic of the language spoken by the mathematicians on the research project.
TRUST THE ALGORITHMS
The SECURE team is working on creating an algorithm that the public will have confidence in. Knowledge on human actions and values is a prerequisite for developing sustainable energy consumption. For example, data from electricity meters can be used to adapt production so that only the least possible amount of power is wasted. But collecting personal data makes a lot of people feel insecure. They do not trust the systems and fear hacking, monitoring and other abuses.
The researchers in SECURE are therefore working on developing specially constructed algorithms that enable those who can optimise electricity or heat production to benefit from data analysis without the data being disclosed to unauthorised persons. And the solution must be communicated to the public so that they trust the systems and assist in collecting the necessary data. The latter issue is where the techno-anthropologists come in.
'We cannot create safe data for people if we don't know what they understand as being safe. And that's something you can't 'math' your way out of. On the contrary, it requires that we understand what is at stake for people and what that means for the way we process data,' Adrienne Mannov says.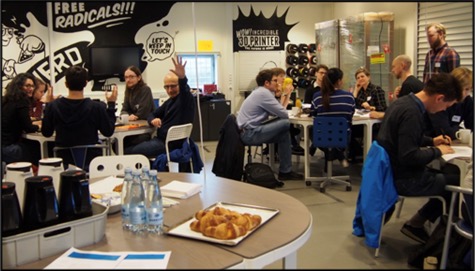 Workshop in the SECURE team. (Private photo).
BEGINNER-LEVEL EXPERTS
The researchers associated with SECURE have had a sincere desire to talk to each other, to work together effectively and not just deliver their separate contributions to the joint project. That's why they held – and still hold – regular meetings with each other where they are curious about each other's research. They give presentations to each other and there is space to ask questions that might seem trivial.
'We're all high-level researchers in our own areas, but in the other areas we were starting at the beginner level, and it required you to dumb it down when you first explained something,' says Adrienne Mannov.
'At first, you kind of had to swallow a camel before saying: Could you please explain this to me again? It's a bit tough on one's professional identity and self-confidence as a researcher. We're accustomed to being rather self-contained in our research,' she says.
CHALLENGE OF THE PROFESSIONAL IDENTITY
At the joint meetings, each researcher also had to be prepared to allow researchers with other professional backgrounds to question their methods or interpretations in ways they may not have been used to. As Adrienne Mannov sees it, this may be because academia today educates students in silos, and that we are not used to posing questions across the sciences to people in other areas.
'It wasn't anything dramatic, but you could feel that there was more at stake. Questioning the scientific methods of another scientist feels a bit like questioning their professional identity,' says Adrienne Mannov.
A JOINT PROJECT
She acknowledges that it takes time to learn to use the same words and to create a common understanding of an interdisciplinary research project with researchers having such different profiles as those in the SECURE project.
'It's about finding common ground in the work you do. As techno-anthropologists, we haven't just been an add-on to the project. We all need each other for the project to be a success, and it has been enormously exciting,' says Adrienne Mannov.
The SECURE project runs until 2021, and Adrienne Mannov hopes that the group will then be able to continue and develop its interdisciplinary cooperation.
AAU INTERDISCIPLINARY PROJECTS
This AAU Inside series focuses on the experiences of researchers from AAU's five interdisciplinary research projects that could benefit others in the organisation.
The interdisciplinary research projects were launched in 2018 with the aim of contributing to solve the major challenges of society that require knowledge from multiple areas. The five interdisciplinary research projects were selected by the AAU Executive Management as part of AAU's strategy Knowledge for the World. With a total budget of DKK 45 million, the five projects are among the major research initiatives paid for solely by AAU.
The projects support AAU's objective of promoting innovative interdisciplinary cooperation in five research areas inspired by Horizon 2020 and FORSK2025 (RESEARCH2025).
Learn more about AAU interdisciplinary research projects in Danish here