By Trine Kristensen, AAU Communication. Translated by LeeAnn Iovanni, AAU Communication
The word 'building' probably makes most engineers think of walls and climate shielding – something that can hold heat in and keep rain and cold out. But for researchers in the humanities and social sciences, other associations come to mind.
- A building can also be a home. Something associated with identity – or it may be associated who purchase heat from a district heating company. Understanding different perceptions of the same concepts is paramount in interdisciplinary projects, but it is equally important to use each other's expertise to develop your own, says Professor Kirsten Gram-Hanssen.
BASIC UNDERSTANDING OF OTHERS' EXPERTISE IS CRUCIAL
She is a social science researcher in the newly merged Department of the Built Environment, and she has been studying sustainable cities and everyday practices for many years.
Kirsten Gram-Hanssen is also project manager of the interdisciplinary research project InterHUB. The project is investigating how to match heat produced by wind energy with consumers' everyday patterns and requirements for comfort. Researchers at the Faculty of Engineering and Science, the Technical Faculty of IT and Design and the Faculty of Humanities are taking part in the project that concludes in September 2021.
- Several of us in the project group have worked together in the past, so interdisciplinary collaboration is not entirely new to us. The prerequisite for working across sciences is to have a basic understanding of each other's expertise – not as a specialist, but at a level that allows us to understand both the problems and prospects in the various sciences, explains Kirsten Gram-Hanssen.
BIANNUAL SEMINARS ALLOW FOR IMMERSION
The researchers in the InterHUB project achieve this understanding through biannual seminars where the project participants come together over a few days.
- It's important to meet and actually spend time together. We're located in different cities, at different locations, and each of us is going about our business. When we hold our biannual seminars, we each present our results or what we've been working on since the previous seminar; we discuss and give each other input. This makes us smarter, both in our own areas and in the areas in the project group, says Kirsten Gram-Hanssen.
Another way to benefit from interdisciplinary work is to connect the project's PhD students to a co-supervisor in a completely different discipline.
- The PhD students affiliated with InterHUB of course have their permanent supervisor from their main area, but they also have a co-supervisor with completely different expertise. This challenges the PhD student to consider other perspectives and also makes co-supervisors smarter in an area that's not their home turf, says Kirsten Gram-Hanssen.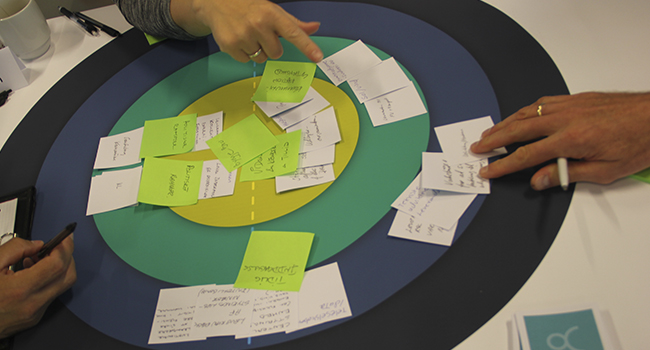 Interdisciplinarity takes time. In Kirsten Gram-Hanssen's experience it is thus also an advantage to work together over a longer period of time, enhancing the good working relationships that have been established.
- It is both exciting and rewarding to work together across areas of expertise. Knowing that the engineers are working on a particular project allows me to consider what projects this could generate for me with my background in social science, she explains.
ADVICE FOR WORKING ACROSS SCIENCES
Kirsten Gram-Hanssen advises both social science and humanities researchers one thing in particular if they are going to work with researchers with technical/engineering backgrounds:
- You need to be involved in the engine room and in the actual development of technology. You have to understand the technical perspective in order to influence the development of a particular new technology, she says.
Similarly, she has good advice for technical-engineering researchers who will be working with researchers in social science or humanities:
- Don't think you're an expert in, for example, consumer behaviour just because in many respects you're a consumer. Knowledge on consumer patterns is based on the same level of expertise as knowledge on how to build an IT system, she says.
However, according to Kirsten Gram-Hanssen, there is a common denominator for the success of all interdisciplinary projects:
- We must maintain openness and respect for our colleagues' expertise. And use the dialogue to understand each other's scientific approach, she says.
Learn more about InterHUB on the project's website
INTERDISCIPLINARY PROJECTS AT AAU
This AAU Inside series focuses on the experiences of researchers from AAU's five interdisciplinary research projects that could benefit others in the organisation.
The interdisciplinary research projects were launched in 2018 with the aim of contributing to solving the major challenges of society that require knowledge from multiple areas. The five interdisciplinary research projects were selected by the AAU Executive Management as part of the AAU strategy Knowledge for the World. With a total budget of DKK 45 million, the five projects are among the major research initiatives paid for solely by AAU.
The projects support AAU's objective of promoting innovative interdisciplinary cooperation in five research areas inspired by Horizon 2020 and FORSK2025 (RESEARCH2025).
Learn more about AAU interdisciplinary research projects here (website in Danish)
Read previous article on the interdisciplinary research project SECURE here